I just finished a project I've been working on lately. I created jingles and show themes for the university radio station "funklust" in Erlangen, Germany.
Take a listen to the audio montage:
About the Station
funklust is a student initiative of the Friedrich-­Alexander-Universität Erlangen-Nürnberg in Germany. The station name loosely translates to "the joy of broadcasting". Their studio is located at the Fraunhofer Institute for Integrated Circuits IIS which at the same time is the transmission site.
The playlist mainly covers genres like indie rock, singer-songwriter and various mixtures of electronic rock and pop. The program gets distributed via a web stream, digital radio (DAB+) and DRM (100 Watt shortwave transmitter).
Start of the Project
All started with a rebrand of the station formerly known as "bit eXpress", because another student initiative working with video joined them. So they had not only to search for a new name but also for a new station sound.
The new package includes
Audio content for 4 programs (show openers, music beds, sweepers)
General jingles and sweepers
Information elements (news & weather)
Top of the Hour jingles (daytime & nighttime)
Promos for all programs
I did all the composition, production, mixing and mastering. The voiceover was recorded and delivered by the funklust team.
A tidy house, a tidy mind
When you have to create many elements, it's easy to lose track. So there had to be some sort of organizing. I decided to use a Trello board, since it allowed me to create several lanes for my tasks like on a Kanban board.
Along the way my Trello board looked something like this: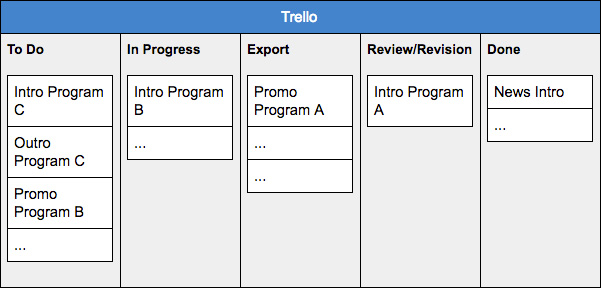 Delivering content
Content has been delivered in multiple chunks via Google Drive. To make it easy to find things fast, I always followed the same folder structure. So when you merge the contents of every update in a folder you get the complete audio package.
Here is an example: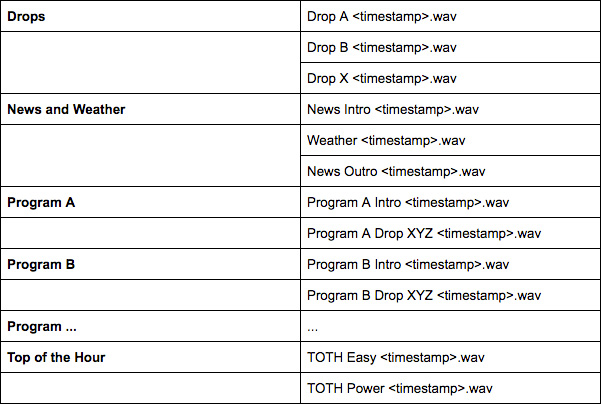 Lessons learned
Dealing with People
There are several things in a project's life cycle that can get difficult. First and foremost you should definitely get the requirements right. This should prevent most misunderstandings in the process.
And since communication is a bidirectional process, I reached out to the people at the station to get some early feedback on the things I created. Unfortunately there were far too many people who had opinions on stuff. In the end we managed to consolidate all of that feedback. From that point on I communicated with only one person who delivered the feedback. Much easier!
Sound Processing Part I
In music, the loudness war is nothing new. And it doesn't stop in radio. You want your station to sound as loud (or even louder) than your neighbouring station to catch the listener.
In this particular case it was something totally different. First, funklust is a digital-only university radio station, so they don't have to compete with someone else. Secondly, the overall sound processing of the station is quite moderate. Meaning the music is not over-compressed and there is actually some headroom in the signal.
But what I sometimes struggled with was the fact that the perceived loudness of my delivered material was too low compared to the music. I caught myself maybe compressing/limiting a bit too much to raise the overall loudness. I think in the end it was sufficient and not overdone.
Sound Processing Part II
As I mentioned before, the sound processing is quite moderate. But there was one thing I didn't consider. Some of the programs get re-broadcasted via FM.
If you listen to that other station you quickly realize that something is wrong: Too much low end and compressed to hell – it sucks all live out of the music. But nothing we could change about.
So we have the original signal that already has some processing on it and run it through some further compression/limiting and random FM processors that shape the signal leading to distortion and pumping effects.
That's when I realized that my audio material had way too much energy in the low end. And that's something we can change! So a few EQ moves later that problem was fixed. Nice side-effect: backing off the low frequencies gave me more headroom to work with. So I could raise the overall volume a bit.
Inspiration
The first things in the package I created were the information elements (news & weather). So, where do you begin when you've never done something like that before? Two options: Starting with a blank project in your favorite DAW and writing some musical sketches. Or, like I did, looking for similar work on the internet. The key here is not to copy other people's work. You rather try to deconstruct, study the subject and find the essence of it. At least it helped me to get inspired and put my own twist on it.
Need some inspiration to create a news intro & music bed for your own radio station? Check out the deconstruction of "funklust" news:
Conclusion
Creating radio jingles and show themes for the first time can be quite intimidating. Furthermore, funklust is not an ordinary station and definitely deserved a special sound. From the first drafts to the final package, I learned a lot and I hope it won't be my last package for a radio station.
But even more important, funklust is happy to have a new custom package that fits well into their radio program.